Two Purchase Options
Immediate Purchase
Push the PayPal button below and follow the PayPal instructions. After payment is confirmed, I will contact you regarding the transfer of ownership
PAYPAL
You may use "In-Buy.com" immediately. Just send Nameserver and (Dns) information from your hosting company. I will login to my registrar and modify the Nameserver (Dns) to reflect the change. You should be good to go within an hour or so.
You will now have complete and total use of the domain name.
If you are not familiar with the ownership transfer process, know that this can be lengthy and possibly take 3 to 7 days to complete. It just depends upon the particular registrar and their procedure and stipulations. Should you be new to transferring a domain name from one registrar to another, you can read the overview for the entire process including a "transfer procedure checklist."
Delayed Purchase
Withhold payment at this time and proceed with implementing the services of Escrow.com.
*
As of this writing the escrow fee is approximately $30.00 to $40.00. You and I can split the fee 50/50. Use of the domain name during the escrow period will be reserved until all parties are satisfied and the escrow closes. The transfer of ownership will then be complete.
Transfer Ownership Services
Transfer Ownership Services
If you have an existing domain registration account, the transfer process will be simple. If you need help, Contact Me.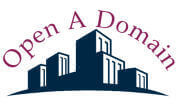 If you do not have a domain registration account, I would suggest creating one through my Openadomain website.
Open A Domain is my Godaddy affiliate site. Openadomain.com is registered to Kaktus Productions which is also owned by me. if you need more information see our About page. In regard to GoDaddy, you must know they are the biggest in the domain and hosting business.
As an affiliate I will receive a commission for the sale on anything you purchase if you go through my affiliate page. Heck, in addition the registration, you may need hosting or perhaps a ssl secure certificate. Anything you purchase from Openadomain.com will result in a commission for me.
So here is the Deal -
and why you would consider this offer.
If you decide to go through my affiliate website, I will pay the entire escrow fee. In addition, any purchase including domain registration and/or hosting service will be discounted to you. As an example, your fee for a one year domain registration will only be $8.99.
Alternatively, you certainly can sign up with GoDaddy directly or any other registrar of your choice. However, since this domain is currently registered with GoDaddy, a transfer from one Godaddy account to another is swift and practical. Should you make this alternative choice then, of course, the discounts and offer described above are off the table.